Well-branded and designed hemp stickers can help you leverage the power of your marketing labels, even as we move into this digital era of communications and health-focused consumers.
In this post, we'll discuss several ways you can use sticky branding tactics in your marketing efforts to boost sales, delight customers, and be different from your competitors. We'll dish out some of our hard-earned advice about branding cannabis labels in a booming industry.
What We Mean by "Sticky" on Your Marketing Labels
We're not just talking about the magical plant that makes hemp, CBD, and other cannabis products possible. We're also not talking about the physical characteristic of your custom labels and stickers.
A sticky brand is memorable and can be recalled easily at a moment's notice by your intended audience.
The way to make your brand nice and sticky is to do memorable things, like spicing up your marketing labels and personalizing your hemp stickers. That way, as soon as your ideal customer has a desire or problem, they think of you first.  You provide the solution, but if you're not a sticky brand, it won't make a lick of difference.
Being memorable is more than just getting in front of your audience. It's about looking different, sounding different, and being different.  Custom hemp stickers and labels can help you get there.  Here are four ways you can enhance your product labels to boost your brand in the marketplace.
#1: Consider a Peel-Away Option for Cannabis, CBD, and Hemp Stickers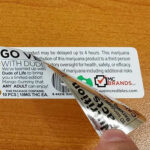 When it comes to extended content labels, most businesses opt for the hinged labels, a booklet-style product with a spine that keeps the layers attached.  
But what if you did something out of the ordinary? What if you made the top layer of your hemp label completely removable and turned it into a promotional sticker? Can you think of some ways to engage your customers?  A couple of ideas include:
Using stunning artwork on those hemp stickers and marketing labels that people want to stick on their laptops, windows, and other eye-level surfaces

Offer something great to loyal customers who show off their sticker on social media

Including something helpful or useful on your marketing labels, like common measurements or product instructions
There's a lot of real estate on your labels. With so many options for printing, it can be tough to find the right solution.  Talk to our label experts to determine some possibilities. 
#2:  Try Using Booklets to Tell a Story on your Marketing Labels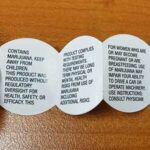 It may not be easy for smaller items and products, but booklet labels can be a potent tool in your marketing efforts.  
We all love a good story. What would happen if you reimagined the way you tell your story to your consumers? Can you enhance their experience with this method? Can you offer something that will track your return on this investment?
Creativity is the lifeblood of business, where thinking outside the box usually brings immense benefits. 
The difference between the peel-back labels discussed above and booklet labels is the number of pages.  Booklets allow up to 72 pages, while peel-backs use up to 3 pages – the front and back of the top layer and the top of the bottom layer. Booklet labels are perfect for when you need to say more.
#3:  Use Custom Shapes for Hemp Stickers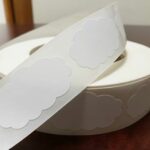 Custom shapes make brands look significant – like they care if their customers like them. Want to print hemp stickers that look like your mascot? Sure thing! How about a cloud, leaf, or star? You bet!
Custom shapes inject personality into your brand and can be a cost-effective giveaway strategy.
#4:  Give Away Your Marketing Labels & Stickers
Everyone loves free stuff. Who doesn't get a nice, durable sticker and immediately think, "where can I stick it?" Customize the experience with metallic labels or unique shapes to catch the eye and inspire a connection. 
Toss these freebies in to-go bags, packaging, in your envelopes, or on your counters.
There are many ways to inspire action with your marketing labels. Custom hemp stickers, whether in a single layer or as extended content, can give you just the edge you need to make yourself top of mind for consumers.
Questions About Our Labels?