Custom Printed Metallic Labels & Stickers
Durable,
Reflective
Branding
It's just one way to stand out. Metalized paper, foil, and film offer highly unique and profitable branding opportunities for any industry.
Best Industries for Metallic Labels
What kinds of businesses are ideal for metallic labels and stickers? We think they look beautiful just about anywhere, but that could be our bias talking. Here are some industries that use metalized paper, foil, film, and other iridescent materials to stand out.
What to Know About Color-Matching on Metallic Labels
There are a few different materials available for our metallic labels. We have iridescent (holographic), silver, foil, and film products that offer unique aesthetics for your brand. If you're looking to make it shine, there are several options to create that "WOW!" factor.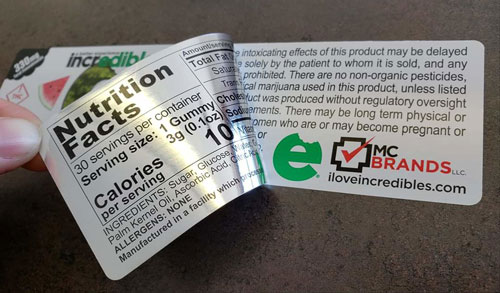 If you'd like to get a closer look at these options, request free samples to see what we have to offer. Our passion is branding, and that's reflected in our sample kit.

You can also come by our office in Fort Collins during normal business hours if you're close by. 
When it comes to choosing which material best suits your labeling needs, first consider your artwork.  Will you have an image or just colors in the design?  An image will use CMYK ink, so you will need an extra layer of white underneath the image on metallic labels.
Most brands with images don't print on iridescent materials. For reflective labels, we use Pantone colors, which are opaque and sit on top of the shiny, metallic material nicely without the white background layer.
Why Print Metallic Labels with Us?
Ultimately, it's all about listening to what you need and helping you find the right materials for your custom labels. We respond quickly, offer one-on-one support, perform extensive quality assurance, and deliver high-quality labels quickly. And we've been doing it for almost 40 years.
Whatever your labeling needs, we can help you do it. 
Very responsive & helpful as we were trying to navigate our initial labeling runs for 22-oz bottles. The expert team at LabelTec helped us with many iterations of our initial design, answered all our questions, and helped us troubleshoot our labeler as well.
Our company has been working with LabelTec for years and we are always happy with the service we receive. They are so helpful and everyone I have worked with has been wonderful! Thank you guys for everything.
As a local company ourselves, we've had great experiences in our dealings with LabelTec. Their one on one interactions have made it easier in achieving the end product that we wanted, with great customer service overall.
We like to keep things simple. Whether your metallic labels are machine- or hand-applied, the process is the same. 
Get a Quote. Our service members can help you find the best materials for your custom metallic labels.
Prepare Artwork and Approve. Our steps make going to press seamless and efficient.
Bring Your Brand to Life! Get your metallic labels or stickers quickly, so you can get those products on the shelves.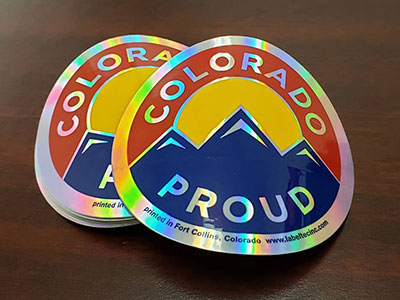 Get a head-start on your project by contacting us today. We respond within a couple of hours if it's during normal business hours. Branding is what we do and love, so ask us your questions and let's get to labeling!