While hemp label requirements aren't yet an enforced policy, they are likely to make their way into our lives in the coming years. Following the passage of the 2018 Farm Bill, hemp is no longer a controlled substance. It can be cultivated and transported around the United States, but with some restrictions.
The Difference Between CBD & Hemp
The green rush is still new, so as a producer, you'll find yourself attracting and creating a new market of consumers. Because of hemp's youth in our market, it's easy to confuse CBD with hemp. NuLeaf Naturals in Denver wrote an excellent article about the differences between the two. CBD products come with a few extra restrictions, but hemp doesn't contain any THC. There's a lot more freedom in this market than you'll find in traditional CBD and cannabis markets.
Briefly, CBD is made from the leaves, stem, and seeds of the Cannabis Sativa plant, so there's a high likelihood of getting a bit of THC in these products. Hemp, on the other hand, is made from just the seeds of the same plant, but it contains zero THC; however, hemp doesn't offer the same benefits as CBD, so suppliers must be extra careful in the messaging of the product's intended use.
Because hemp is still "new" to the mass consumer markets, it's best to follow the FDA guidelines when considering what should go onto your custom hemp labels. The FDA offers more information on CBD & hemp label requirements here.
Why CBD and Hemp Label Requirements Are Important
There are two big reasons we need to pay attention to CBD and hemp label requirements. We can sum up the first and most obvious reason in three words: Consumers read labels. They're smart. They have instant access to reputable research on products. They are 90% more likely to read both your negative and positive reviews before making a purchasing decision on whether to use your product or a competitor's.

The second reason to pay FDA Hemp Label Requirementsattention is the Food and Drug Administration (FDA) has seen a rampant display of misleading messaging on Cannabis Sativa products since the passing of the Farm Bill. That means there will likely be stricter CBD and hemp labeling requirements coming our way within the next few years. They may not be policy now, but you may as well place yourself ahead of the herd of suppliers that are on their way into the market.
Those are two great reasons to pay attention to CBD and hemp label requirements. Even without THC components, hemp is still a new ingredient that has seen high levels of controversy over the years. That tends to translate to misinformation about hemp and CBD. Producers are now using labels to educate, inform, engage, and entertain consumers with extended content like our peel-back labels, where you get up to three pages of space for branding.
CBD and Hemp Label Requirements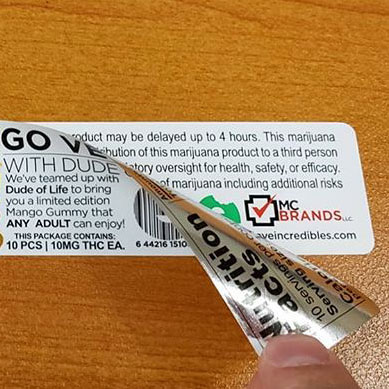 Most hemp producers already understand that making unsubstantiated or false claims on products could lead to a world of stress and pain for a company. Claiming that the hempseed oil can cure or treat a health condition or disease could lead to threatening letters from the FDA and lawsuits from your consumers.
When you create cannabis labels – and that goes for anything that comes from the Cannabis Sativa plant, including marijuana, CBD, and hemp – you'll want to keep a few things in mind for the content that needs to go onto those labels. Here are a few CBD and hemp label requirements worth noting:
Brand name and logo should be prominent.
Identify the product in clear terms and state its intended use.
List all the ingredients in order of concentration, highest first.
Tell how the CBD or hemp was extracted and indicate the THC dosage, even if it is zero.
List warnings and disclaimers for topical vs. internal use.
Include the net weight without the packaging on the front of the label and outer package.
The above list includes best practices to help your consumers get the most of your product and their experience with your brand. Clear and consistent messaging allows them to make well-informed purchasing decisions that will help you build a base of loyal customers.
If the three pages of peel-away labels don't provide enough room for you to say everything you need to say, check out our booklet labels, where you can get up to 100 pages of branded content.
When it comes to designing custom cannabis labels, superior labeling will set you apart from competing brands. While not yet made into a policy, hemp label requirements are likely to come shortly, given the rampant growth of misleading messaging during the green rush. We have various materials, inks, and label products that will fit all your needs, and we've been doing this for almost 40 years. We're confident we can help you create a label that makes a difference and follows the common-sense rules of building a new market.
Are you ready to make your brand as sticky as your ingredients?