Your Product Labels Say It All.
Make room for your content with a custom label that fits all the information you need for regulatory compliance. Booklet labels give you more space to communicate with your customers, build trust, and show off your brand.
The Speed and Flexibility of Printing Digital Labels
With up to 72 pages for additional content
Peel back the top layer to reveal up to three pages
Standout with fluorescent inks or metallic foils
Looking for Something Shiny?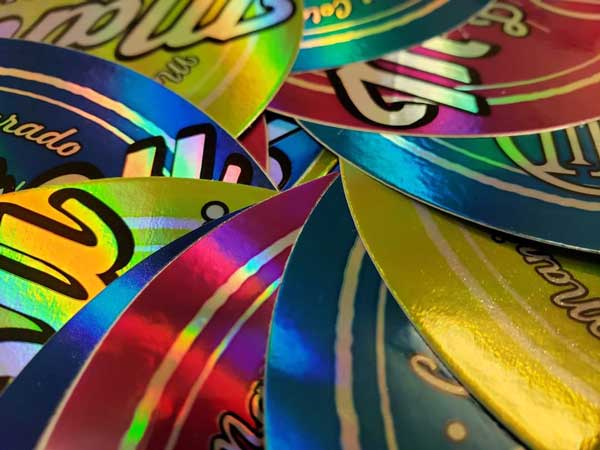 Check Out Our Metallic Labels & Stickers
Product Variety • Expert Color Matching • Fast Delivery
Roll and Custom Product Labels
These are the various styles of product labels in rolls. We've also included illustrations of our peel-back and booklet labels. Our printers are fast, and we'll help you figure out the most cost-efficient process whether you're printing 200,000 or 500 labels.

Specialty Material Labels



Simple. Durable. Reliable.
Simplify your packaging with easy-to-apply, durable product labels that can withstand time and weather.
Responsive Service and Fast Turnaround
No need to chase someone down when you have questions or concerns. No more wondering if you'll get your labels on time. We've been honing our printing process since the '80s, and balancing efficiency with quality has always been our highest priority.
When you call or send us an email, one of us will answer right away or get back to you within a couple of hours. If your question is complex, it may take us a business day, but we'll keep you updated, and we won't let you down.
How to Order Product Labels
Yes, we have waterproof materials that can withstand wet conditions. We've tested our labels.
We have some eco-friendly products. Our digital process is highly efficient, so there's less waste than other types of printing.  We have specific materials that can be recycled wholly with the bottle and package, as well.
We're looking at recycling solutions for the liners on these products. As we continue to move toward greener practices, we ask that you contact us to discuss our most recent eco-friendly materials and methods.
All our materials are different, and how long the label lasts will depend greatly on the environment and usage of the product.  Heavily used products will last about a year and others can last for many more. Contact us to talk about which materials would best suit your product.
Are You Ready to Get Your Product Labels?
What Our Customers Say About Our Label Products
Our company has been working with LabelTec for years and we are always happy with the service we receive. They are so helpful and everyone I have worked with has been wonderful! Thank you guys for everything.
– McKenzie Lampe –
As a local company ourselves, we've had great experiences in our dealings with LabelTec. Their one on one interactions have made it easier in achieving the end product that we wanted, with great customer service overall.
– The Roberto's Salsas & Sauces Family –
Very responsive & helpful as we were trying to navigate our initial labeling runs for 22-oz bottles. The expert team at LabelTec helped us with many iterations of our initial design, answered all our questions, and helped us troubleshoot our labeler as well.
– Carol Cochran –
Love these guys. Quick, responsive, and quality unmatched. Thank you so much for the great support.
– Nicholas Andresen –
We've worked with Paul and the LabelTec team for many years now. Not only do they get high quality work done at great pricing, but Paul's not afraid to come down and help us with machine issues when they pop up. Highly recommend, no pun intended.
– Cheeba Chews Marketing & Communications –
Their customer support responds fast and they made sure our labels were exactly what we needed!
– Bethany Rivera –